JG Wentworth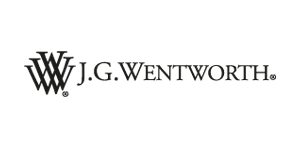 Main Location: Radnor, PA
In business since1: 4/30/96
Other brands owned and operated:
Orchard Acquisition Company, LLC
JG Wentworth Reviews
JG Wentworth has been in business over twenty years (approximately three since its reorganization) and is one of the most recognizable names in the structured settlement, annuity and lottery payment buying industry. They buy payments at a discount to their future value. The company also originates and refinances mortgages and offers prepaid cards. Their popular commercials feature the opera singers and the tagline, "It's your money, use it when you need it."
JG Wentworth is a publicly traded company on the New York Stock Exchange under the symbol "JGW". The company, also through its affiliates, locates and purchases the rights to future payment streams from individual customers in need of cash. It then pools the payments together and sells or finances them into the institutional market, at a [discounted] present value. Investors buy these types of asset backed securities for above market interest rates. JG Wentworth also serves as a broker to other purchasers of some of the financial assets (payments).2 JG Wentworth often acts as an intermediary.
Better Business Bureau Info:
Rating: A+
Accredited: Yes
Complaints Opened (Last 3 years): 56
Complaints Closed: 56
Complaints Closed Satisfactorily to the Customer: 21 of 56
Most Common Complaint: Problems with Product/Service
JG Wentworth Reviews**
Trust Pilot Reviews: 4/5 stars average from 64 total reviews.5
Trust Pilot Review #1:
5/5 Stars "Quick Easy Excellent Customer Service
JG Wentworth has been incredible in aiding the process to get money pulled from my annuity. The person I worked with throughout was consistent, quick to respond to questions via email or phone and made me feel comfortable with the transaction and the plans prior. I highly recommend this company to anyone looking to get money from their settlement."6
-Nicole 1/20/15 (Verified Order by Trust Pilot)
Better Business Bureau Reviews:
Positive: 0
Neutral: 0
Negative: 6 (2 for annuities/structured settlements)
After reading the JG Wentworth reviews from the BBB, one dealt with confusion regarding a $1,000 price beat guarantee in June 2016. The other was from a verified reviewer in May 2015 was in regards to apparent multiple court date reschedules resulting in a delayed cash advance, and lack of communication responses from the business. The transaction was eventually completed.
Some have reported the company can be a bit pushy while others have had nothing but good things to say. While they do have a relatively large number of complaints (with the Better Business Bureau) 56, we credit the company for addressing them and closing them all. They are a very large company so people will have very different experiences and given the total number of transaction annually, 56 is relatively small on a percentage basis. Like all structured settlement companies, they are trying to get a good deal, buying low and selling high. J.G. Wentworth has the reputation of getting the transaction done in the end.
Our JG Wentworth reviews section is a good place to start with when asking yourself should I sell my structured settlement. Getting a quote from them gives you a pretty good benchmark of what you can expect. They do offer a $1,000 guarantee to beat any offer but there is a review suggesting that this requires a signed deal with another company and a court date (the example was for a structured settlement but the deal should apply to retirement annuities as well). You should always try and get quotes from multiple carriers so you know your offer is in line. For all funding companies, it's a good idea to request quotes additionally in writing and avoid accepting the first offer.
Other companies like JG Wentworth:
Fairfield Funding
Novation Capital
Annuity Transfers, Ltd.
**Retrieved 7/22/16
1,3,4,7http://www.bbb.org/washington-dc-eastern-pa/business-reviews/financial-services/j-g-wentworth-in-radnor-pa-80004991/Customer-Reviews
2http://yahoo.brand.edgar-online.com/displayfilinginfo.aspx?filingid=11374778&tabindex=2&type=html
5,6https://www.trustpilot.com/review/jgwentworth.com